Son of farmers, Razafindrainibe Mbolatiana Lucien made a decisive choice to become a rural micro-entrepreneur in order to secure his career. He is a young enthusiast with a passion for milk production sold to the market through the Red Pie and Holstein dairy cows on his farm located in Soavina, a rural commune in the district of Antananarivo Atsimondrano.
Trained as an electro-mechanic, Razafindrainibe Mbola has become the soul of a successful farm for the past 12 years. It started with a Red Pied dairy cow. Currently, he has at least twenty head of cattle on his farm, seven of which ensure the daily production of 140 litres of milk. This daily yield is constant throughout the year due to a methodical organization and planning of artificial insemination to ensure the gestation of his herd.
He also collects milk from about ten supplier farmers residing in the district of Atsimondrano in order to ensure the demand of the sales points for which he is responsible. Among which, the one opened this year at pavilion 670 in Analakely in the Urban Commune of Antananarivo.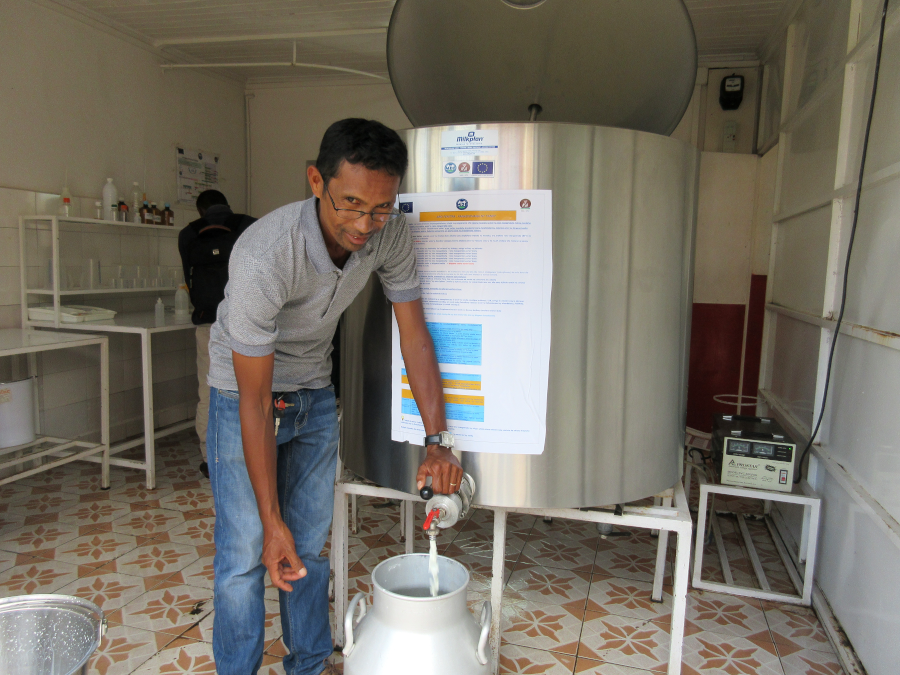 Razafindrainibe Mbola guarantees quality milk for consumers and processors, complying with health and hygiene standards, also carrying out analyses in the production laboratory located in Anosizato Andrefana. At least five tests are carried out before the products reach the points of sale.
In addition, it grows fodder crops on an area of one hectare to feed its 20 or so dairy cows. In addition, he produces his own feed in the form of feed supplements for his cattle. A man in his sixties, a livestock technician, in addition to the veterinary doctor, helps him with the health control of his livestock.
Razafindrainibe Mbola opts for the practice of artificial insemination for the gestation of his dairy cows in order to ensure their health. He questions the practice of covering with a bull. It is a practice, he says, that can be a source of transfer of microbes and viruses for the cows on his farm because of the plurality of cows the bull has covered elsewhere.
This young breeder is also a milk collector from the neighbouring supplier farmers to ensure his supply. Every day, for the points of sale in Anosizato Andrefana and Analakely, he ensures 800 litres of quality milk, cold-colded thanks to the milk tanks, and the products are analysed in the laboratory located in Anosizato which he owns with the support of the Asa Lait programme; a programme financed by the European Union and managed by the economic interest group Malagasy Dairy Board or MDB.
Razafindrainibe Mbola's main objective for this year 2020 is to invest more in the extension of its farm. This is an ambition to ensure the supply of quality milk capable of satisfying the demand of consumers and processors. The white gold industry is still successful; supply is not able to meet demand according to this young rural micro-entrepreneur.
The Malagasy population consumes dairy products at 5 to 7 kg/capita/year, while Africans consume 20 kg/capita/year and 250 kg/capita/year for France.