"…For behold, I bring you good news …" Lk 2,10. Merry Christmas and Happy New Year 2020 to each one of you.
My dear brothers , my dear friends,
We are very happy to inaugurate, on this New Year's Day and Feast of the Virgin Mother of God, the renovated website of Radio Don Bosco. Congratulations to all the collaborators who have done everything and who have spared no effort to arrive at this wonderful day. It all began a year ago, in December 2018, when Brother Sébastien Robert, in charge of Social Communications for the Province of France-Belgium, agreed to come to Madagascar to relaunch the work of renovating the Radio's website. Training sessions were organised in Fianarantsoa with the post-novices and then at Radio Don Bosco with a small team. This was able to ignite the ardour of all the collaborators who set to work hard day after day. Congratulations to Fr. Franck Randriamiandrinirinarivo, director of Radio Don Bosco, and to his team, because after the birth of RDB Live here is now the website of the radio in its new face. I would like to thank especially Mr. Ranaivomanantsoa Harilanto, our Webmaster, who has done an enormous amount of work. To you, dear staff of Radio Don Bosco, my compliments and congratulations for your promptness and readiness to give the best of yourself.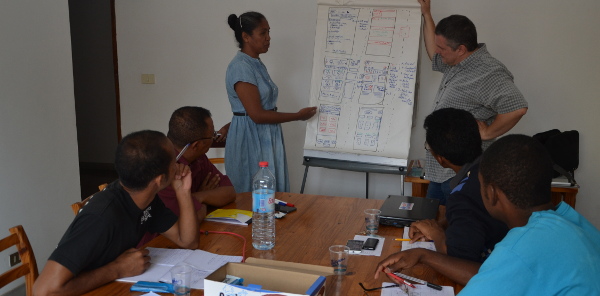 The Radio website is launched on this beautiful day when we celebrate the feast of the Virgin Mary Mother of God. She, who led Don Bosco, will protect us and lead us in this "significant field of action that is part of the apostolic priorities of the Salesian mission". In his time, St. John Bosco, our founder, considered social communication in practice as an authentic school for the masses, a parallel school of great effectiveness. The courage of our Founder should not be lacking in us. We are invited to develop our commitment through the thoughtful and fruitful use of the mass media as the ordinary means of educational communication and a new form of presence. I address myself to you, the visitors of this site, to wish you to find comfort and courage in this site so that you too may become a sign and bearer of God's love wherever you go.
This website would like to be a response to those who seek a good education in the spirit of Don Bosco. All the articles and broadcasts published would seek to fulfil our mission as educators of young people. At the beginning of this year 2020, let us ask God to send us his blessing through the Blessed Virgin Mary.